Jude Taylor
Hardenbergia
2025-6 Graphite/Vintage Rose
designed by Jude Taylor.
Horiz 34.23
Vert 46.69

Wildflowers
MORE FROM THIS COLLECTION
ABOUT THE DESIGNER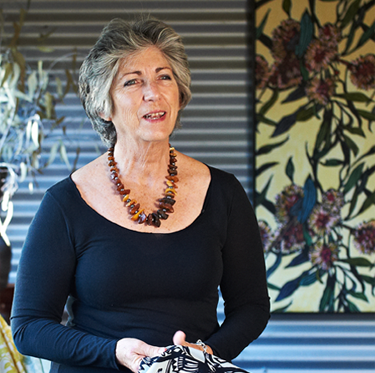 Jude Taylor
Jude Taylor's work is inspired by the ability of West Australian wildflowers to sustain life in a hostile environment. Hard edges are a strong feature of Australian wildflowers, a necessary adaptation enabling plants to survive in our unique environment. And the lino cut medium itself is perfect for portraying hard edges. Working with women in Indonesia for the past four years, Jude has expanded her art on to fabrics and — like her wildflower linocuts — her products are a wonderful show of beauty and abundance. "As a young girl growing up in Western Australia, I remember the trips to the hills around Perth to see the wildflowers ... exquisite jewels of colour that displayed their beauty from harsh prickly and misshapen bushes. The scent, along with the delicacy and strength, of the flowers and all their abundance were a joy to me then and remain so today." An avid artist since a child, Jude Taylor produced her first body of work for exhibition in 1990. Since then her reputation has grown steadily and she has been involved in several significant projects. In 2012 Jude was commissioned to design the fabrics used in the refurbishment of the new offices for the Premier of Western Australia. Her strong patterns, based upon West Australian wildflowers, were ideal for this major project. Motifs used were those of Kangaroo Paws, Grevillea, Hakea and Wattle.