Newcastle based interiors stylist Tim Neve is truly a man of many talents. Interior Designer, celebrated Author, Stylist, former magazine editor, dad! and at Sparkk we are fortunate enough to call him part of the family. 
This past month has seen Tim release his third design collection with us - 'Foraged'. A contemporary exploration of Australian native flora, Tim has added his signature flair and eye for colour to this beautiful range.
Sophisticated, moody hues and clean crisp lines, Foraged is fast becoming one of Sparkk's most popular collections.
As he prepares for a showcase of 'Foraged' at Life Instyle Melbourne, we chat to him about his design process, what it takes to bring a collection to life with Sparkk and what helps to shape his own approach to interiors.
Sparkk has been lucky to release 3 collections with you now - can you talk us through the process you follow to get a collection out there? 
I have been the lucky one! The process to release a collection can be a lengthy one, and Sparkk are there for every step of the process. It doesn't happen overnight, the actual design and sampling took almost a year, perfecting each design and colourway. For Foraged I looked to vintage illustrations of native florals, but produced the designs as digital illustrations so they have a modern aesthetic. Each pattern really did grow organically, like a plant does - not really knowing where it was going, until it was in full bloom. As always, having the freedom with Sparkk to instantly experiment with different colour combinations is where the designs really come to life. There are some really stunning combos like blush pinks and rusty tones in this range. In the end, the release was perfectly timed as native botanical prints have moved into popularity.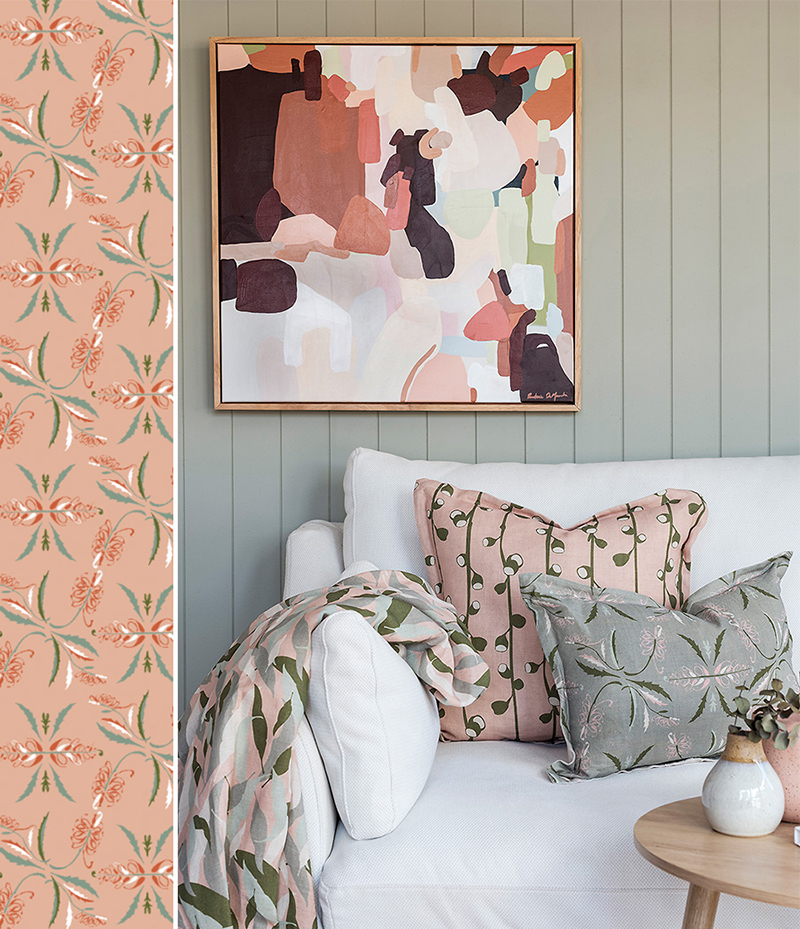 What drew you to working with Sparkk? 
I actually remember when Sparkk first launched, receiving some samples in the post it was instantly exciting. Digital printing was new, and there was something fresh about their designs that we hadn't seen in the Australian interiors industry before. Some of those original designs have really gone on to be iconic (pink flamingos, anyone?). A few years later when we began talking about collaborating on my first range it was an instant pairing of minds - and given my background in both interior design and graphic design the process uses all my skills together to create the textile patterns.
How has your personal style evolved over the years?
For many years I was known as the 'coastal' stylist - due to the fact my first book (Sandcastles) explored that style, and that's what my first range with Sparkk continued with - nautical motifs in crisp illustrative style and fresh coastal colourways. After a while I really wanted to shake things up, so for my second collection I went to the opposite end of the spectrum, 'Celeste' explores lunar iconography including crystals and rock formations, in rich deep jewel tones, and was produced on heavy velvet. Now with Foraged it's something different again - I was really interested in exploring attractive florals, but with a highly contemporary edge. Of course, already I have ideas brewing for a whole new direction, watch this space...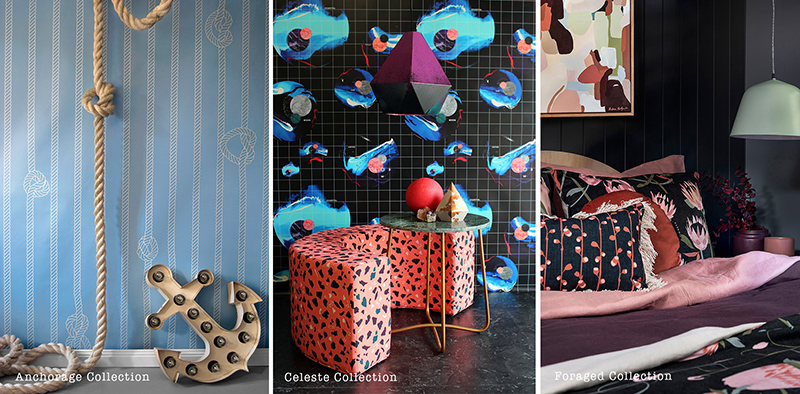 As a stylist - what inspires your textile choices for jobs? 
Choosing textiles is the best part of working with Sparkk! There are so many gorgeous basecloths to choose from. My top favourites at the moment are Francis - the chenille style fabric with a luxurious sheen makes all the colours and patterns appear so rich and has a lovely feel to touch. The almost-opposite to that is the beautiful Lulu, a Belgian linen with a creamy oatmeal colour, that mutes designs and has that tactile quality, perfect for slouchy cushion covers. I have used both of these to produce the new Foraged bed throws, chenille patterned top with a plain linen backing - divine! Shop Tim's collection here https://store.timneve.com/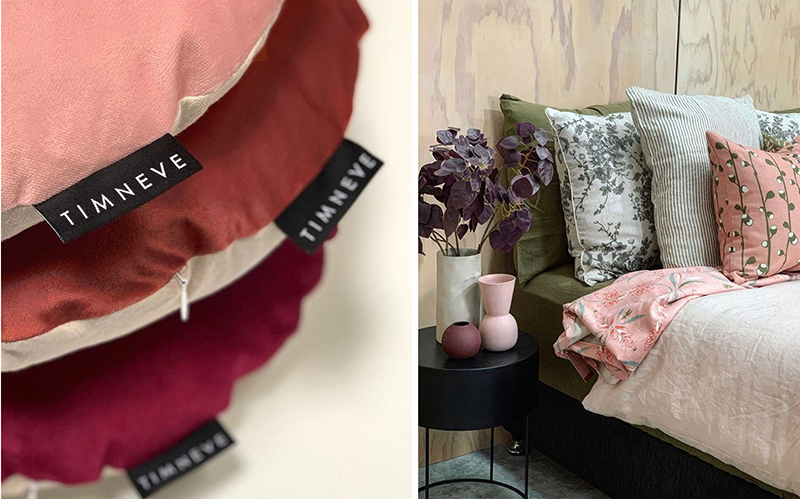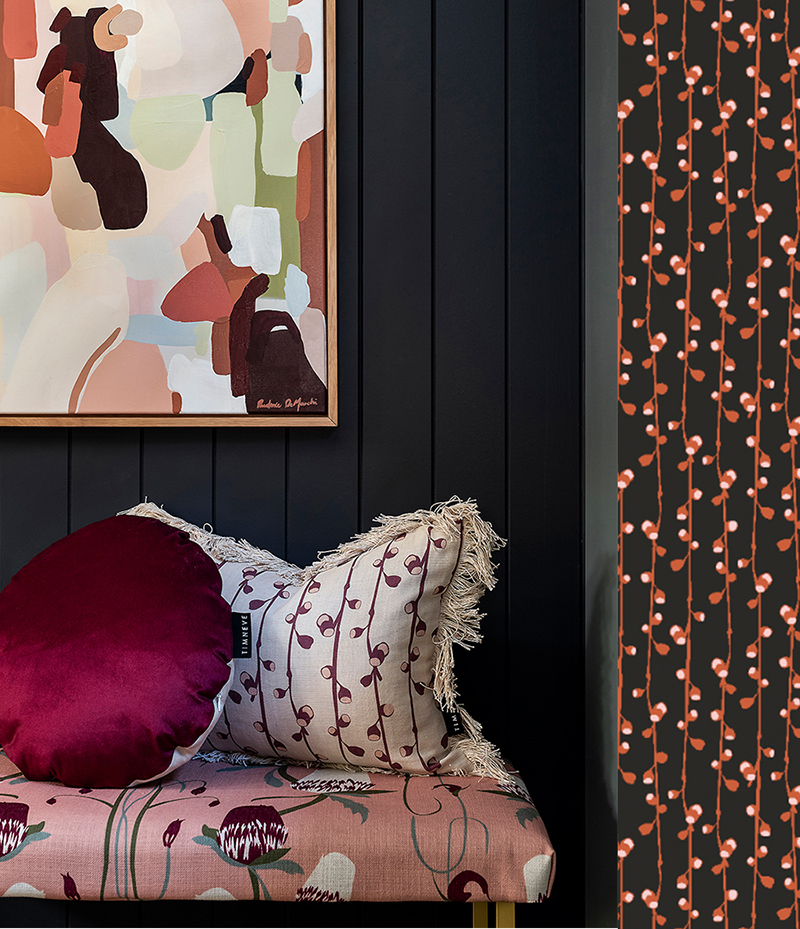 You're headed to LifeInstyle in a couple of weeks, how exciting! tell us a bit about what draws you to this particular event. 
Out of all the interiors industry trade fairs, Life Instyle has always been my firm favourite. Simply because it champions small business, hand made, and made in Australia products. I had attended many years as a buyer, purchasing wares for my own clients. But when the time seemed right for me to jump the fence into the wholesale arena, I knew Life InStyle was the perfect fit. The Melbourne trade fair is held in the exquisite Royal Exhibition Building, which is like the inside of a decorative jewellery box come to life - it's going to make the perfect backdrop for the rich tones of the Foraged range. I love meeting retailers from all around Australia, and their reaction to Foraged has been wonderful. We have a few stockists from remote areas who have taken on the range - and to me, given the subject matter, that is the biggest compliment of all.